It's no mystery that the Sonic franchise has struggled. Most would argue that there hasn't been a good Sonic game since Sonic The Hedgehog 2, while others claim at least some love for Sonic Adventure. No matter which camp you fall in, we can all agree that some fan-made tributes and experiments in Sonic's world have yielded some fun results. Green Hill Paradise Act 2 is here to save the day!
Green Hill Paradise Act 2 brings Sonic to the PC with an intensely fun open environment littered with loops, springs and robots ready for bashing. The game was built using the 3D Sonic Games Development Kit (SonicGDK). The kit was created by a fan named Xaklse with the project itself being created as a collaboration between Daniel "SuperSonic68" Coyle and numerous others. The download for this fantastic Sonic experience can be found here.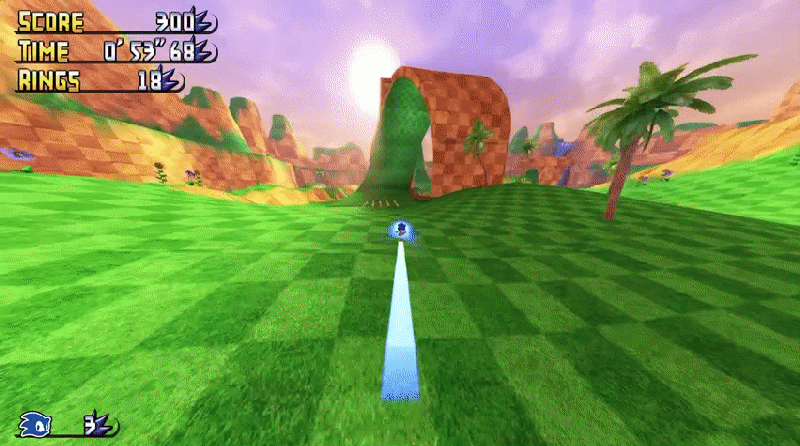 The fun comes from the open world feel which really allows Sonic to really stretch his legs and show off his speed. The larger world really creates contrast to show quickly he is really getting from place to place. The platforms and loops are large, making it difficult to miss those elements as you're speeding toward them. One of the nicer elements, and a featured I've wanted in Sonic games is "Mach Mode" which pulls the camera back which not only creates a greater sense of speed but gives the player a little more room to make decisions instead of running directly into pits they can't see coming. There is no need for boost pads as Sonic's speed is certainly enough to get through the world. This is more in line with what I would want in a 3D Sonic experience.
The series has struggled mightily since it has shifted to 3D. I remember the the first level of Sonic Adventure being something that got fans, including myself, very excited about the series' future but soon faded as you got through the rest of the game. City Escape is another memorable level from the 3D Sonic The Hedgehog games but it's fair to say that most have left a bitter taste in the mouth.
Green Hill Paradise Act 2 is a valiant attempt at a larger Sonic world with some fun ideas and refined mechanics that SEGA should really take a deeper look into.